---
November 2012
"Kathleen Elsey – Her Path to Painting

"Bravo California" Interviews Kathleen Elsey
I was recently interviewed by Daniel Kepl of "Bravo California!" We had an informal and lively discussion about my path to painting, my painting process and the paintings in the San Francisco solo exhibition. You can watch and learn about my painting process through a series of videos I made discussing my paintings.
November 2 - December 31, 2012
"Brush with Life" at Thos. Moser San Francisco
Over thirty paintings are featured in this one-woman exhibition at Thos. Moser on Sacramento Street in San Francisco. Kathleen Elsey from Santa Barbara, California is well-known for her Fauvist/Expressionist paintings.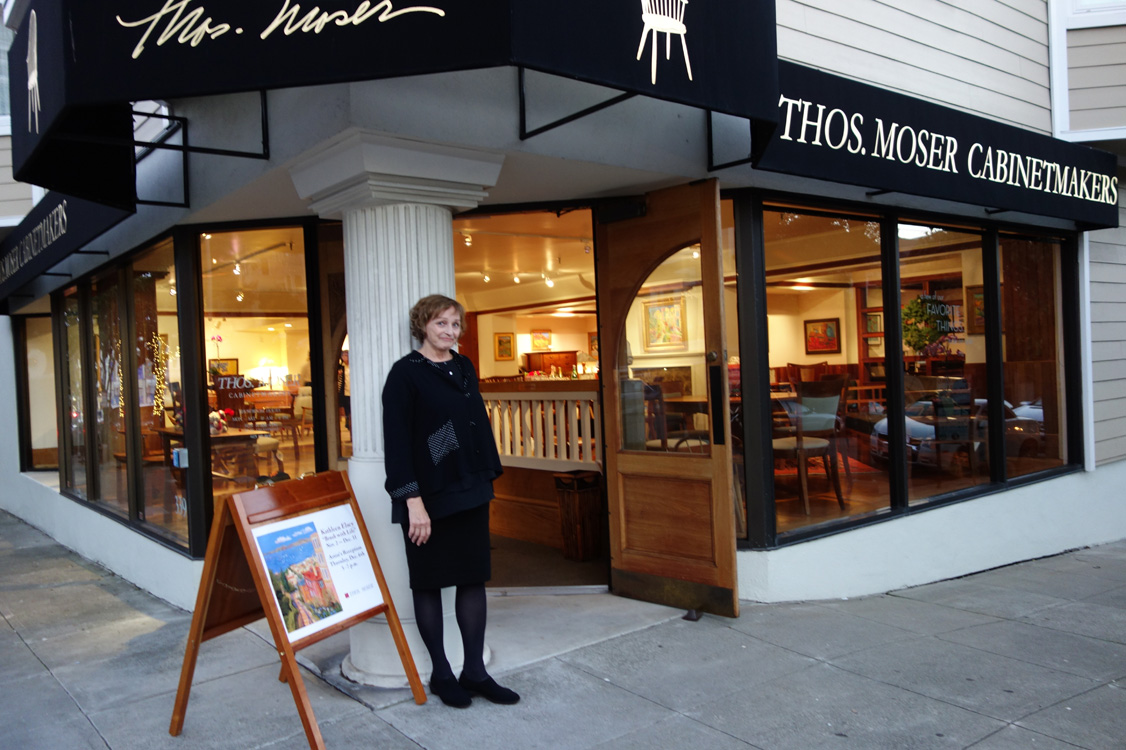 January 14, 2012
"Living on the Edge"

Guest Lecture Series with Kathleen Elsey at the Maritime Museum
Emily Falke, curator for the Maritime Museum, is the commentator for this lecture series discussion. The following are excerpts from Kathleen Elsey's responses in the evening's conversation.
Emily: "Kathleen, you have an extensive background in graphic design and marketing on the West Coast. What is it that led you away from that career to become a successful fine artist and what was the transition like?"
Kathleen: "I worked for Hewlett-Packard (then known as Kathy Gard) for about ten years, and after a two-year sabbatical in Portugal, I returned to San Francisco in 1985 and started Kathleen Elsey Design, Inc. It was a lot of fun being a successful small business owner and creative director in such a fabulous European-like town as San Francisco. I had a lot of technology clients, friends of mine from my Hewlett Packard days, who had also left HP and started up companies like Silicon Graphics and Tivo. Over the ten years of operating this design & marketing boutique, the deadlines became more critical and the creativity was becoming less important. Computers were taking over the design process."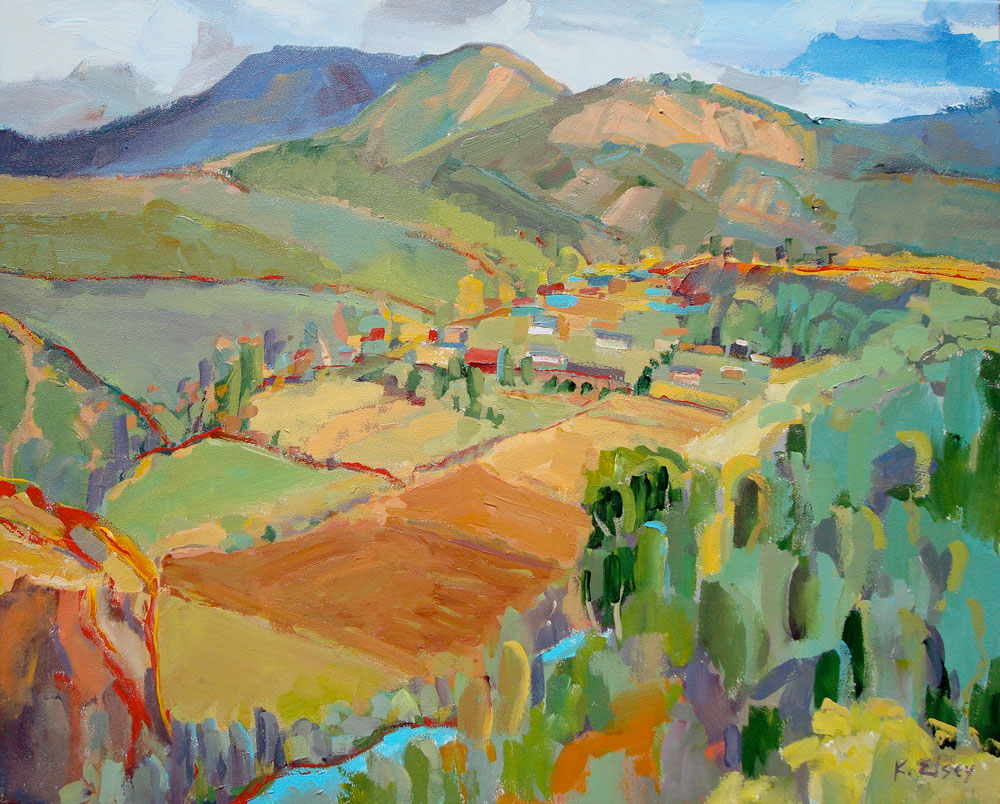 "At Kathleen Elsey Design we were creating websites, logos and branding fortune 500 companies. It was a successful and rewarding venture, but the stress level was off the charts. I found the work no longer creative so I immersed myself into the fine arts. I spent weekends, evenings– every spare minute painting."
"It was in 1998 that I closed Kathleen Elsey Design to follow my heart.
Painting became my passion. Within one year, I had my first open studio, then was juried into one of the most acclaimed art festivals in the country, the Sausalito Art Festival. I had an impressive fine art website, branching off from the Kathleen Elsey Design website.

I used each little success to build on the next success.
I had two jobs, one of marketing myself, the other being a painter. Two years after leaving the design and marketing industry, I was in two galleries and had been juried into several festivals and exhibitions. Art appreciators that came to my exhibitions asked me if I would teach them to paint. So I began collecting names of students who were interested in learning from me and when I had eight names I sponsored my first "Brush with Life" painting workshop in my barn in Sonoma. It was great fun and that first workshop led to several workshops every year in Sonoma. After that, I continued to paint and find new galleries and other venues to teach, show and sell my work. So my transition was a process of using each success, no matter how trivial, to build onto the next success. Cross marketing helped also. At every event I had, I used that event to gather momentum for the next event. Fourteen years later, and I am still loving painting, learning new things every day, showing in galleries across the country and teaching painting workshops from California to New York."
Emily: "Tell us about your painting process."
Kathleen:
"I try to NOT have a process. I try to NOT think too much when I paint. I try to NOT have rules when I paint. But I know I do think and have rules when I paint. I look back to fourteen years ago and wish I could paint with such abandon now."
"My "non-process" you could call it, is have an idea, usually something I see, sketch it quickly and define why I want to paint it. What is the one thing I want to depict in this painting? That is my purpose or passion. Then I work fast. Cover the canvas with paint in the first half hour or hour. Stand back and check the composition, colors, value, shapes. It is easy to change it at this point if there is something that doesn't work for me. Then jump right back into it and keep the spontaneity going. Go with my intuition and paint without disturbances for a couple more hours. Paint with power, passion and economy."
Emily: "How would you describe your work today and how did you get to this point?"
Kathleen: "I don't like to put labels on art, but I would say I am best described as a Fauve with Expressionist tendencies. I am definitely a colorist. I have always had a propensity for bright clear happy colors bouncing off the canvas. I greatly admire Vincent Van Gogh, Vlaminck, Bonnard and the French Impressionists."
"I also have been influenced by California's Society of Six. Clearly my work has changed over the years which was not my intention. My life has changed, my environment has changed, my interests have changed. So naturally my painting changes with my life and exposure. I believe in having a purpose in life. When that purpose is filled with passion it transposes into paint on canvas. My best paintings are the ones that I am painting from my heart for only me, with a "who-cares-what-this-looks-like" attitude. It takes a lot of focus, passion and inspiration to keep going sometimes."
Emily:
"HOW DO YOU GET UNSTUCK?"
Kathleen: "Being lost is part of being an artist. It seems like I am always searching for something before I begin a painting, while I am painting, when I am finishing a painting. I don't always know what I am searching for, but I do know when I have found it. It is this searching that makes a painting your own. Yes, I literally have a box of tricks I try when I am really stuck."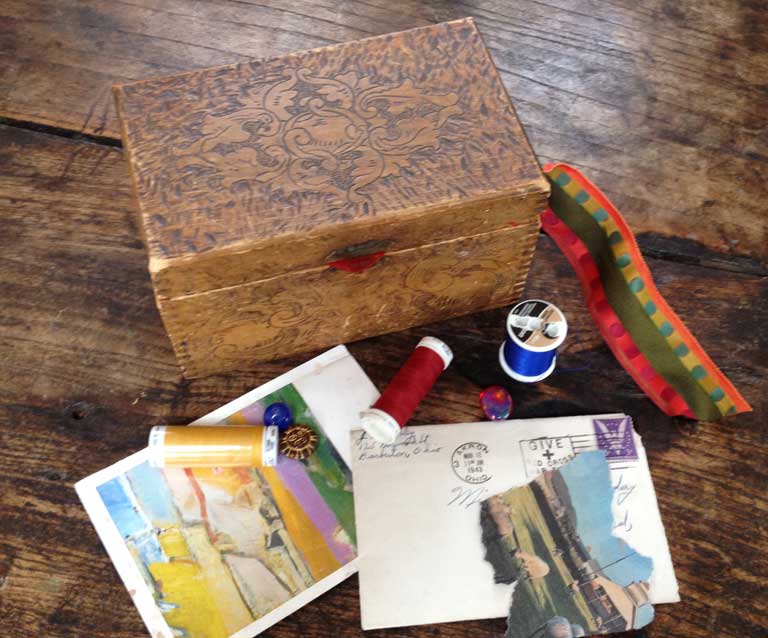 "I have an old carved wooden box that my grandmother gave me when I was six years old. Whenever I have an idea, I write it on a scrap of paper and put it in the box. I also have cut outs from quotations, poems, magazines and newspapers which are beginnings of ideas that I don't know how to develop. I have an old spool of thread in there, a piece of ribbon, a photograph of a picnic...all things that I think are a germ of an idea for a painting. I like to get all of them out, touch them, sort them, spread them over the table, mix them up, pull the best four out and think more. It becomes a physical process of sorting through my thoughts which doesn't seem as confusing as just thinking or making a list.
Another important way for me to get "unstuck" is to eliminate as many distractions as I can. Turn off the phone, computer, clear the desk, clear my mind, pay the bills. And get a peaceful feeling. I do my best painting alone. I have to really concentrate when I paint. Not that I think that much when I paint. Painting for me is intuitive and I can't have any interruptions or distractions when I paint. To have a three-hour period of painting with no distractions is glorious.
Then there are a lot of simpler things I do to get out of this stuck thing. I make a goal to make a painting in two hours as an exercise. No rules. Just paint. Who cares what it looks like
? Then I do this three times. Or more if I am still stuck. I study the masters, get out a book of a favorite painter and paint like they would paint. Or I study my own work. I look at my best painting for each of the past fourteen years.
It helps to grab my sketchbook or journal and head to my favorite coffee shop. Sit outside and start sketching whatever I see. My coffee cup or if I have a view, I sketch the buildings, the mountains, the people across the street. Make notes, maybe add a bit of color to the sketch. One of my favorite ways to get over a creative block is to paint my feelings. My self portrait is always fun to apply this feeling to. Sometimes it is months later when I look back at the exercise I did to get over my creative block and realize what I was feeling at that time.
A creative block is a great time to experiment with some new materials. Try some new paint, a new color or a new medium for some added texture on those new canvases. One of my favorite getting unstuck exercises is to see how many greens I can make out of my favorite minimal palette. Use 4 colors and make a color chart for later reference. I can really get off on this exercise and do it for days. I think it is the mathematician coming out. I was a math major the first year of college! If I am feeling even too stuck to do that I do something even more tedious, like gesso and sand all the canvases in the studio and garage.
Playing around with a canvas and making an abstract painting with different mediums and paint always gets my mind going and gets my hands and brushes going, too. Some of my favorite paintings have come about this way. A blank canvas or paper, a little paint, a stroke somewhere leads to another. When I didn't care what the outcome was I was so pleased with the results. I try not to fight this dry period. I hike, wander in the woods or on the beach, listen to music lyrics, paint to music. The best ideas come when I am not looking for them.
If none of these ideas work, there is always the very very last resort which I avoid--clean the studio. I hope you are never so stuck that you end up cleaning your studio instead of painting!"
Emily: "How do you know when you are done with a painting? Do you have standards to fulfill or instincts that say you are done?"
Kathleen:
"I don't usually know when I am done." If I reach a point that could be done and don't know what to do next, I put the painting away for a while. Get it out a week later. Then I am like a stranger and can look at the painting with objectivity. Just putting it out of sight for a while (before overworking it) turns it into a winner when I see it again."
Emily: "What do you hope the viewer will see in your work?"
Kathleen: "I don't care if they see anything. Art is personal and spiritual. If my painting stimulates any sort of thought from the viewer I suppose I have spoken to them. Or maybe I have spoken to their soul. Yes, that would be nice."
---
November 15th, 2011, The Happiness of Fish
The Salty Edge @ Santa Barbara Maritime Museum
"The Salty Edge" two-woman exhibition features new work by Kathleen Elsey and Pamela Enticknap. They depict beach life in Santa Barbara. Viewing Elsey's paintings is a treat for her use of bright, light-hearted color. She is a founding member of the New Fauves and "best oil or acrylic painting" award winner at the Carmel Plein Air Festival.
Read the complete news article at The Happiness of Fish website.
---
December 6, 2011 Ed Hat Santa Barbara
"Living on the Edge"
Visual artists Kathleen Elsey and Pamela Enticknap discuss their paintings and sketches in the two-woman Salty Edge Exhibition at the Santa Barbara Maritime Museum. Where does inspiration come from? What is an artist's process? These questions and more will be part of the lively conversation moderated by SBMM curator, Emily Falke. The starting point for the talk will be the two-woman exhibition "The Salty Edge" depicting images of people and scenes on the seashore currently on display at the Santa Barbara Maritime Museum.

Read the complete article at Ed Hat Santa Barbara.
---
October 4, 2010
"The Spirit of Place"
Kathleen Elsey's Paintings at Taos' Millicent Rodgers Museum
Every year, Kathleen Elsey spends part of September in Taos, New Mexico, teaching, painting and visiting peaceful places. Two of those peaceful paintings, "Taos Mountain Morning" and "Pilar ", are now on their way back to the historical and picturesque town of Taos. The New Mexico Plein Air Painters' Exhibition at Millicent Rogers Museum opens with a reception on October 9th from 5:00 p.m. to 7:00 p.m. and runs through November 14, 2010.
"I had been in Taos for a week of hot and dry weather. The day I painted Pilar, the sky was different, hazy. I could smell rain on the way. I perched my easel on the same hill in the same place I always stand above Pilar painting the quiet village before the skies opened. 'Morada with Taos Mountain' was painted on my last morning in Taos. The sunrise as it illuminated the mountain was magical. It was a nice way to say good bye until next year." Kathleen Elsey
After over twenty years in the San Francisco area, Kathleen moved to Santa Barbara, California. She is represented by Kamp Gallery in Chicago, Chalk Hill Winery & Estate in Healdsburg, California and Kathryne's Design and Showroom in Santa Barbara, California.
---
July 27, 2010 Santa Barbara Independent
Kathleen Elsey Painterly Prowess
By Elizabeth Schwyzer
Santa Barbara Independent


A SUMMER'S DOZEN: It's been 12 years since Kathleen Elsey left her job as a designer in San Francisco and set out to paint full time. She hasn't looked back—until now. This coming weekend, she'll be opening her studio for a tour that features one painting for every year she's been at it. Arranged chronologically, these works chart Elsey's development from acrylic on paper through her transition to canvas and linen, a brief stint with oils, and a return to acrylic. There's a good balance between figurative works and landscapes, and while these works show her artistic range, there are themes that run throughout: bright color, bold brushstrokes, and a whimsical approach to both medium and subject.At the same time, Elsey's an accomplished technician. Take for example "Rio Lindo," from 2000. During this period, the artist stuck strictly to plein air painting, often starting with a bright red under-painting before layering on the subtler tones of earth and sky. Veins of fiery red show through here, delineating the fields and dancing up the flanks of golden hills. Down by the river, diagonal brushstrokes give way to choppier, kinetic lines, as if the water invigorated the surrounding plant life.
"Pink Fog Morning," from the following year, post-dates the attacks of September 11 by three weeks and is by far the darkest work in this show. The artist seems perched on a narrow deck above the ocean, a single railing separating her from the chaos of cliff, rock, and surf far below.

Elsey's most recent works tend toward complex figurative scenes, like "Parade" from 2008, which any Santa Barbara viewer will recognize as Summer Solstice in all its exuberant energy and splashy color. The Past Twelve Years will be on view 11 a.m. to 5 p.m. on Saturday, July 31, and Sunday, August 1.

---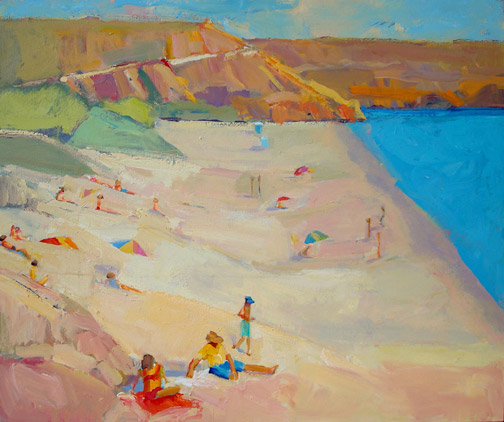 July 1, 2009

Kathleen Elsey "Brush With Life"
Solo Exhibition


Divine Inspiration Gallery of Fine Art
Santa Barbara, California

Infused with vibrant colors, the paintings of Santa Barbara Fauvist, Kathleen Elsey, explore interior spaces, figures, still life, beaches and landscapes. Working both plein air and in her studio, she paints with a vivified palette and brusque brushwork recalling both Fauvist and Impressionist traditions. Her solo exhibition at Divine Inspiration Gallery of Fine Art will feature over fifty of her oil and acrylic works on canvas including the premier exhibition of her figurative works. The exhibition opens on July 1 and runs through August 28

Kathleen Elsey lived in San Francisco and Sonoma, California for over twenty years, as owner of Kathleen Elsey Design Studio Inc. Ten years ago, in 1999, Elsey closed the doors of her design studio in San Francisco to devote her energy to painting, traveling and teaching painting workshops. In 2003, she settled in Santa Barbara with her husband, Victor and her dog, Lulu.

In the past year, Elsey's paintings have been on exhibition at the Albuquerque Museum and the Bakersfield Museum as well as the Salmagundi Art Club in New York City. Her work is also represented by galleries in Carmel, California, Atlanta, Georgia and Hawi, Hawaii. She teaches "Brush with Life" painting workshops in Sonoma and Santa Barbara, California as well as Taos, New Mexico.

She is a member of the New Fauves, a group of nine painters from the US and France, committed to the aesthetics and approach of the great French Fauve painters such as Matisse, Marquet, Manguin and Vlaminck. She is a signature member of both the National Association of Women Artists and the American Impressionist Society.
---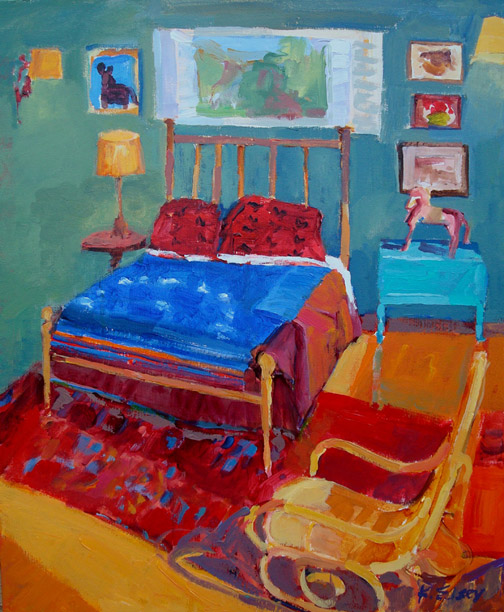 March 6, 2009

Energetically Infused with Vibrant Hues...


By Erin J. Smith/CASA
SANTA BARBARA CASA MAGAZINE
INSIDE/OUTSIDE

Energetically infused with vibrant hues, the recent work of painter Kathleen Elsey explores themes of interior and exterior spaces.

"It's about moving the inside outside and the outside inside—that is what people do," said Elsey, whose solo show Inside Out is currently on display at the Architectural Foundation Gallery through April 10th. "When we go to the beach we bring pieces of our interior worlds outside, our beach blanket, our chairs, our books..."

Fourteen months ago Elsey conceptualized the show strictly as a series of interior spaces to compliment the Architectural Foundation's focus on design and built environments. But as she began working through the paintings, Elsey realized that it's not just about inside: "I also like to paint outside where people bring the inside out" Elsey pointed to her panting Table in the Oak Grove as an example, where tables and chairs have been set up outdoors almost like a room in a house. "But," said Elsey, "the trees around you become the walls."

The drive to create has been part of Elsey's life for as long as she can remember. "When I look I see shape and color, and I always see light. It's what makes me want to paint," said Elsey. "With color and light I could be excited to paint anything."

"I always wanted to be an artist, but there was no one to tell me how to make a living with art," she said. Graphic design seemed to fill the need for working with her hands, and Elsey enjoyed a successful career including owning her own design business in San Francisco for fourteen years. After retiring from graphic design, Elsey has been painting full-time ever since. She also teaches painting workshops in Santa Barbara, Sonoma, and in Taos, New Mexico.

"Paintings are recordings of my life. They are my memories," she said. "If I see something that impresses me, I have to capture it in paint. I work fast to get the feeling down." Elsey told a story about a time she was outside painting with a friend where she found herself painting a light-infused scene despite the gloomy atmosphere outside. When her friend saw Elsey's painting, her friend said to her, "Kathleen, you see sunshine everywhere."

Join Elsey at an artist's reception on Friday, March 6th from 5-7pm at the Architectural Foundation Gallery. The Gallery is located at 229 E. Victoria Sreet. at Garden Sreet.

---
March 6, 2009
Energetically Infused with Vibrant Hues

November 30, 2008
Kathleen Elsey's Works as Part of Terra Firma

August 22, 2008
The Artist in her Room - Kathleen Elsey escaped corporate world for her true love

February 29, 2008
The Mightiest and Most Memorable

August 10, 2007
Go figure. Artists offer interesting takes on human form.

May 5, 2007
Kathleen Elsey Paints Her Way to International Exhibition and Wins

January 19, 2007
Of Body, Land and Mind

May 2005
Kathleen Elsey wins "Best of Oil or Acrylic" at Carmel's 2005 International Plein Air Competition

August 2004
Complement of Color – Seven like-minded artists collaborate on new 'En Couleur' exhibit in Carmel gallery

May 2004
Kathleen Elsey wins in Carmel's 2004 National juried Plein Air Competition

November 2003
Kathleen Elsey wins award in American Impressionist Society's juried National painting Exhibition

July 2003
In Living Color – Six of the most exciting contemporary California painters today

April 18, 2003
Kathleen Elsey receives award with the National Association of Women Artists 114TH annual exhibition at New York City's Fifth Avenue gallery

February 14, 2002
Kathleen Elsey exhibits work with the National Association of Women Artists, Attleboro Museum

February 1, 2002
Grab your valentine and head out for an Artwalk

May 2001
Southwest Art, Best of the West

February 22, 2001
Six award-winning California artists join forces to form "En Couleur"

February 20, 2001
Sonoma Mountain Artists present their works of art in the beautiful Bennett Valley, Santa Rosa, California

February 13, 2001
Local artist moves North and blooms

February 12, 2001
Northern California artist accepted into National Association of Women Artists

November 9, 2000
Matanzas Winery celebrates Plein-air painting

May 26, 2000
West Sonoma County artists put out the welcome mat

August 12, 1999
Bucking The Trend – Why one woman has traded big bucks for the artist's life

May 5, 1999
Husband and wife trade briefcases for brushes


---
COPYRIGHT STATEMENT
© 2013 All photos and content of this website are protected by U.S. & International copyright laws. They MAY NOT BE USED for reproduction in any manner without written authorization from Kathleen Elsey. They may NOT be used for Pinterest, blogs or any other social media. Unauthorized usage is stealing, not sharing. Unauthorized reproduction or usage is prohibited by the Copyright law and will be prosecuted. If an infringement is discovered, you will be notified and invoiced the industry-standard fee for unauthorized usage and prosecuted for Copyright Infringement in U S Federal Court which will subject you to a fine of US $100,000.00 statutory damages, court costs and our attorneys' fees.